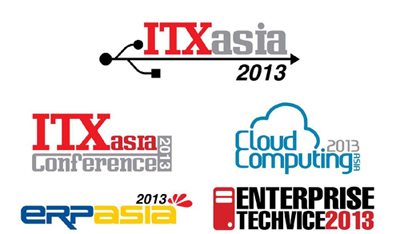 Event : ITX Asia 2013 Trade Exhibition & Conference.
Date : 11 - 13 September 2013.
Venue : Hall 1 Kuala Lumpur Convention Centre.
Concurrent Event : Cloud Computing Asia 2013, ERP Asia 2013 & Enterprise TechVice 2013.
Theme : Where Technology Meets Business.
ITX Asia 2013 is the 2nd ICT and ERP Trade exhibition serving Malaysia and the Asean region. It aims to assemble vendors, suppliers and consultants of technology for business to meet business face-to-face, allowing seamless on-boarding to the world of technology.
The ICT industry keeps evolving and continues to captivate the enterprise for its latest innovations and its growing economical functionality; in helping enterprise of cost cutting and improves efficiency.
Despite the global market uncertainty, the ICT industry remains resilient. Take Malaysia as an example: the mobile broadband market is reported to be worth US$3 billion by 2015 while its enterprise services market which includes data centre services, M2M services, IT/System Integration services and WAN services is
expected to hit US$ 1.89 billion in 2015. Massive government infrastructural spending and the New Economic Model will drive higher hardware and product acquisition.
The event will be the largest ICT enterprise-driven platform in Malaysia for ICT showcase and trends as well as a networking avenue congregated in one place, making ITX Asia a must participate trade event for vendors, manufacturers and service providers keen to further strengthen their foothold in this key region.