Panasonic LCD Model PT-VX415NZ

* 4,200ANSI Lumens
* 1024 x 768 XGA
* 4,000 hours(Eco Mode)
* Contrast Ratio: 4000:1
* 3.4kg (approximately)
* 352mm x 98mm x 279.4mm (W x H x D)


Price: Call For Best Price
Product Description:

Features & Benefits:
** Miracast Wiresless Projection
** Wireless Projection from iOS/Android Devices, Windows/Mac PC, USB Memory Device
** Speedy Wireless Projection without App Installation
** Convenient Functions for Portable and Ceiling-Mounted Applications
** Corner Keystone Correction
** Easy Setting Function helps to reduce time and hassle for setting up the projector.
** Side by Side and Picture-in-Picture functions allow simultaneous projection of two different image sources onto a single screen.
** High output 10-watt speakers and a microphone input enables audio playback directly from the projector for even more effective presentations.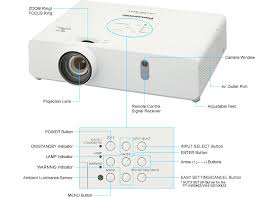 To view the e-catalogue of our company, please click on the hyperlink 'View e-Catalogue'. If you want to add this product into your enquiry / RFQ, please click on the hyperlink 'Add to Enquiry / RFQ'.