iSignager-500A Signage Player
*Support Full HD (1920 x 1200) Output.

*Support Live Video Input.

*RISC-Based Architecture Provides High Stability & Low Power Consumption.

*Content stored in CompactFlash disk or 2.5" IDE HDD.

*Ability to connect display on full resolutions via outputs S-Video, DVI, VGA and Composite.

*Free bundle software iSignager AdExpress and iSignager AdDesign.

*Network management and remote update contents via LAN or Wireless LAN.

Price: Call for Best Price
Product Description:

The iSignager AdDesign shipped with the iSignager 500A is a complete software solution for content design.

Different from the fixed template, users can personalize the display layout with IEI iSignager AdDesign without any limitations.

1. Drag and Drop Layout Design
The iSignager AdDesign layout interface allows users to arrange media zones in a few seconds by drag-and drop.
No fixed templates to limit users creativity.

2. Multiple Media Zones
Display multiple media zones simultaneously on one layout, including pictures, video and banners.

3.Real Time Video-In Support
The iSignager AdDesign supports one video-in display zone to enrich the broadcasting content.
The real time video input source can either from TV program, surveillance camera or DVR.

4.Real Time Message or RSS Feed¡¡
The iSignager AdDesign Pro support real time message feeds.
The support formats include RSS on the website, text and picture.
* Available on iSignager AdDesign Pro only


Complete Box Solution
1. RISC-base Architecture
• High stability: suitable for continual operation.
• Low power consumption: economical solution for around-the-clock exhibition.

• Streamline metal and plastic case perfectly matches to any interior design.
• Auto-play right after power on.

2. Most Complete Output Configuration
• Equipped to organize high-quality media of video, audio, graphics and banners

• The iSignager 500A ensures maximum freedom of choice in selecting the display monitor.The iSignager 500A perfectly matches all kinds of monitors with DVI, HDMI, AV-video, S-video, VGA and Component
output interfaces.

. Powerful Management: iSignager AdMinistrator
With the iSignager AdMinistrator, it is convenient to schedule display contents and manage multiple iSignager 500A players in one application.
Easy-to-understand interface makes the iSignager AdMinistrator a powerful management tool to well control your iSignager 500A.

• Multi-Clients & Group Management allows users to classify the players in various locations.

• Scheduled sequences transfer allows users to pre-set the time for sequence transferring.

• Multi-Sequences Schedule Management on week & month base.

• Real Time Message Feed supports text, picture and RSS format.
• Login function
• Log file management
• Auto Time Sync with NTP Server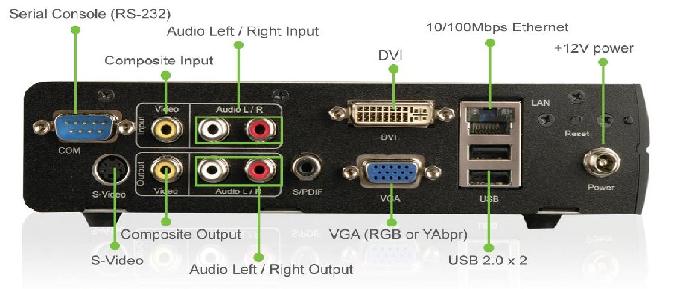 To view the e-catalogue of our company, please click on the hyperlink 'View e-Catalogue'. If you want to add this product into your enquiry / RFQ, please click on the hyperlink 'Add to Enquiry / RFQ'.