Panasonic LCD Model PT-VX605N

* 5,500 ANSI Lumen
* 1,024 x 768 pixels XGA Resolution
* 10,000:1 Contrast Ratio
* 7,000 Lamp Hours (Eco Mode)
* Wireless & HDMI Input
* 389mmW x 125mmH x 332mmD
* 4.9kg


Price: Call For Best Price
Product Description:


Features & Benefits
* Whisper-Quiet Operation
* High 10,000:1 Contrast Ration
* Daylight View Basic Suits Ambient Conditions
* Lamp and Filter Replacement Extended to 7,000 Hours
* Distortion-Free Vertical Lens Shift
* Horizontal, Vertical, and Corner Keystone Correction
* Project onto Curved Surfaces
* Compatible with Leading Control Systems
The PT-VZ570 Series plugs into existing projection networks controlled by Crestron
Connected™, PJLink™ Class 1, and AMX software. Multi-Projector and Monitoring
Software enables control of multiple projectors from a PC.
* Project in Small or Large Spaces with 1.6x Zoom
* More Input Terminals Means More Versatility
A generous selection of input terminals are included to connect a variety of source
devices. These include two HDMI terminals and two RGB D-Sub ports for PC.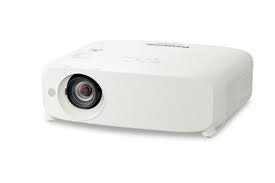 To view the e-catalogue of our company, please click on the hyperlink 'View e-Catalogue'. If you want to add this product into your enquiry / RFQ, please click on the hyperlink 'Add to Enquiry / RFQ'.